Tailored Debt Settlement ™ is a state-of-the-art approach to negotiating discounted payoffs on unsecured consumer and business debts, such as credit cards, store charge cards, personal loans, and private student loans. This alternative to Chapter 13 Bankruptcy delivers all of the major benefits of Traditional Debt Settlement programs, minus the serious drawbacks and pitfalls. This method provides maximum savings, speed, and safety compared to other debt settlement programs, at a fraction of the cost.
Not everyone with debt troubles will qualify for this aggressive approach to debt reduction. I spend a lot of time talking people out of attempting debt settlement, rather than recommending it. A proper suitability analysis is required to determine if it will be effective in your situation. If I don't believe you are suited for the process, I won't take you on as a client. Fair enough?
To determine whether you are a prospective candidate for Tailored Debt Settlement ™ with Charles J. Phelan and zipdebt.com, let's review some important information.
Is Debt Settlement the Right Strategy for Your Situation?
I've been helping people with credit card and other types of debt since 1997. Over the past two decades, thousands of consumers have asked me whether or not debt settlement was the right approach for their situation. There is no set answer that applies to everyone facing debt issues. It's not a cure-all or panacea for fixing financial problems.
If you're not already familiar with the basics on debt settlement, please read my free consumer report, "How to Eliminate Your Debts Quickly and Safely Without Filing Bankruptcy" to get a thorough overview.
Briefly, my own view of where debt settlement fits as a strategy is simple. It's an alternative to Chapter 13 bankruptcy, and also a method of clearing up older unresolved collection accounts.
About 7 out of 10 people who file bankruptcy are eligible for Chapter 7, where the debts are discharged and the balances are set to zero. You're done in a matter of months, at a cost of perhaps $1,500-$2,500. This is why I don't view debt settlement as a logical alternative to this type of bankruptcy. If you qualify for Chapter 7, and you ask me about Tailored Debt Settlement ™, we're going to have a conversation about why you should probably not be thinking in terms of settlement!
This fact alone sets me apart from just about everyone else operating in the debt settlement industry. Very few debt settlement providers make this crucial distinction between Chapter 7 and Chapter 13, which results in their signing up many people for whom debt settlement is obviously not a suitable solution.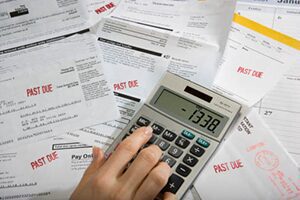 On the other hand, if you are not eligible to wipe out the debts under Chapter 7, that means you're in a long-term bankruptcy petition under Chapter 13, usually 5 years' duration. Under Chapter 13, the debts are not wiped out at zero. Instead, you make monthly payments to the court trustee, and those funds are disbursed to your creditors on a prorated basis.
How much per month will you pay and how much will your creditors receive as a percentage? That depends entirely on your income against allowable expenses, and you have virtually no control over the outcome.
Now, there are many legitimate reasons why a person might still elect to file Chapter 13 bankruptcy despite all of its negatives. But if we're talking about a block of unsecured debt, as opposed to a more complicated situation involving real estate (halting a foreclosure, stripping an underwater second lien, etc.), then Chapter 13 seldom makes sense as the first choice strategy.
If there is any possibility that you could fund settlements instead, then debt settlement will almost always make more sense as your Plan A. This is especially true if you skip the 36-48-month programs offered by Traditional Debt Settlement companies and get it done in 12-18 months or less via Tailored Debt Settlement ™.
Bottom line: Debt settlement may be the right strategy for your situation if you would otherwise be facing a Chapter 13 bankruptcy because you failed the means test for Chapter 7 or would have to liquidate assets. It also works well if you have older collection accounts to be resolved.